We used to manage our website and Google Ads internally, but frankly our website looked unprofessional and we weren't driving the growth we wanted. Over the last 12 months, we effectively outsourced our entire digital strategy to Ben and the results have been amazing.
Increase in
organic visits
+783%
Reduction in
cost per lead
-91%
Opportunity
I.R.B Law LLP is a mid-sized law firm based in Singapore, they offer a wide range of legal services to both individual and corporate clients. We worked with them for around 3 years developing their website, running their Google Ads, and helping them increase their digital footprint through search engine optimisation [SEO].
They originally got in touch with us through a word of mouth referral having recognised that they had significant challenges with their existing website and digital marketing capabilities. Like many of our clients, they came to us having been let down by previous relationships, and therefore had a healthy distrust of what new vendors were promising to do for them.
They wanted to find a partner that would really care about their business and its growth plans as much they did.
What we did
We did keyword research across the legal industry to build out an assessment of the total market opportunity available to the firm. This formed a critical aspect for determining the content that we needed to create to generate new search rankings. Armed with this information we set about implementing our digital strategy, and started with building the core website.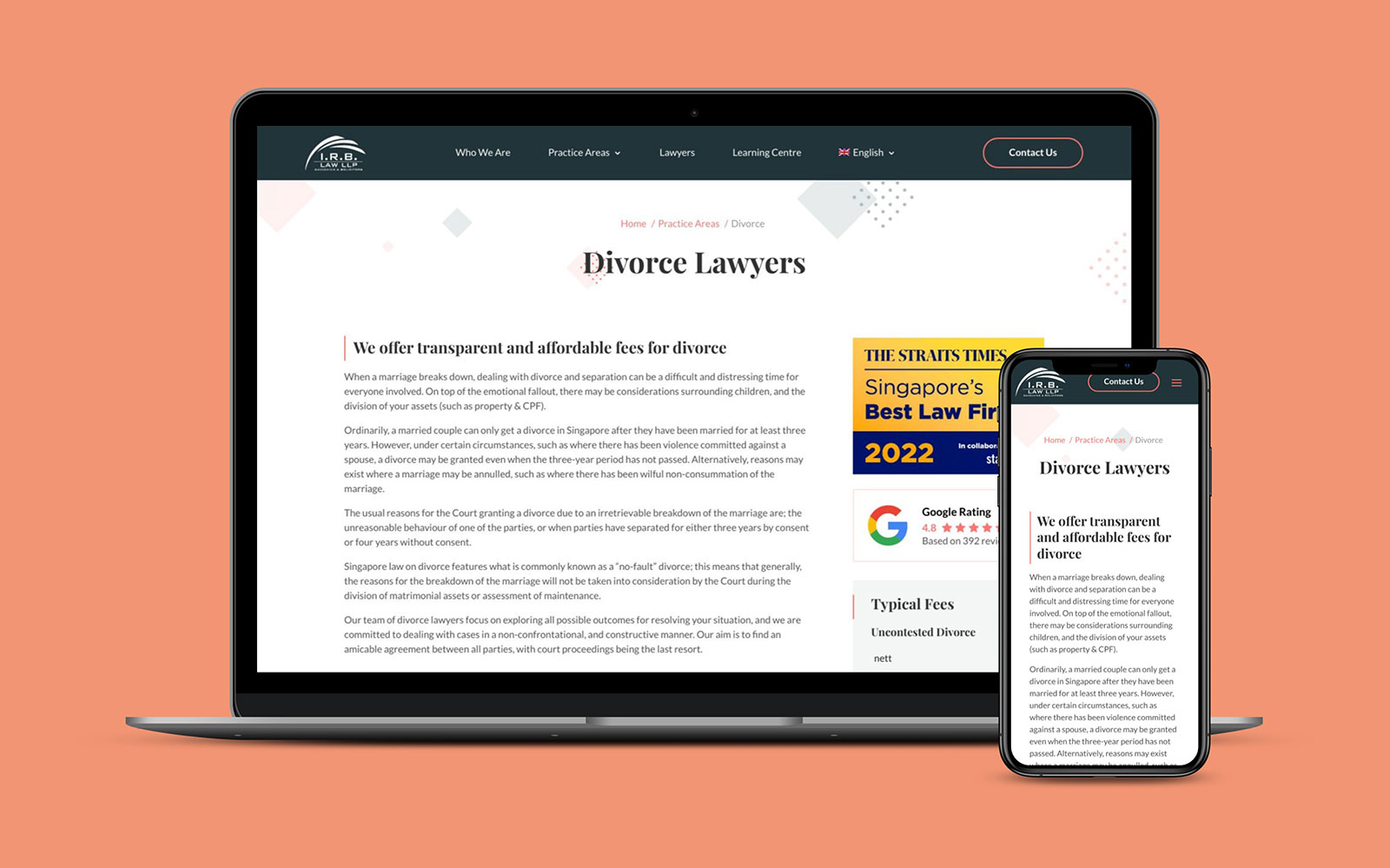 We built out an SEO content strategy to focus on targeting and ranking on new legal keywords to generate more exposure, leads, and revenue. We did this through the creation of service pages and a learning centre, which effectively introduced long form content that explained various legal topics in detail. As the firm itself was not able to produce the content, this was also produced by us.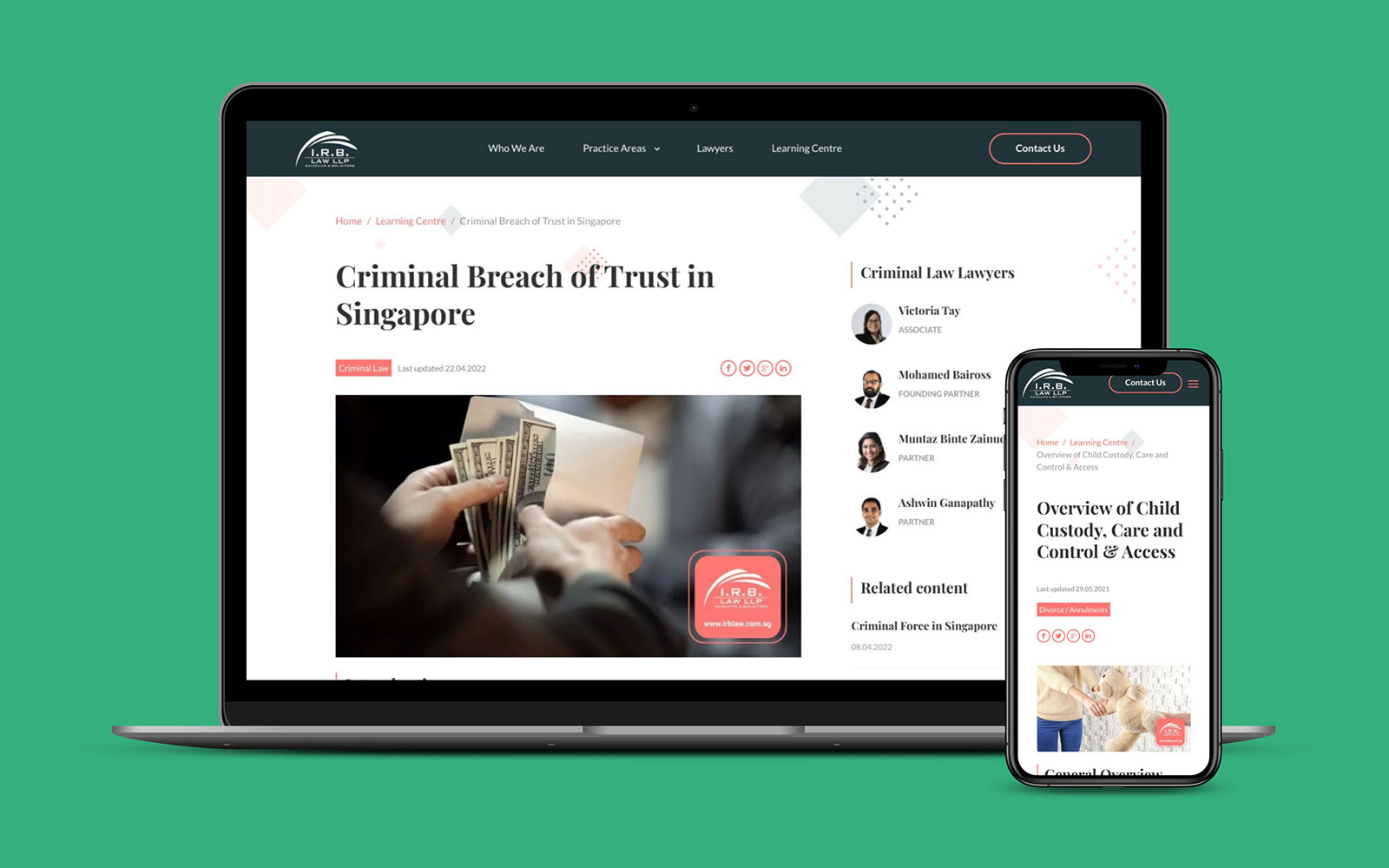 We worked with them to identify new "pay online" revenue opportunities, including the deed poll and HDB power of attorney which were the first in Singapore and opened up significant new revenue streams for the firm.
We built brand new Google Ads campaigns that were focused on the practice areas with the most relevance and revenue opportunity.
We also implemented web analytics and set-up appropriate event and goal tracking to ensure we could effectively measure and optimise our activities over time.
Results
During our engagement with I.R.B Law LLP we helped them increase organic search visits by over 780%, whilst the number of leads generated by their website increased by a whopping 983%.
We developed new pay-online features for low revenue, high volume service offerings such as Deed Polls and we automated everything from user information input to deed poll document creation to reduce manual intervention from the lawyers. This enabled the firm to crash the market on price whilst still generating a healthy profit.
We also drastically cut down on their wasted investments in poorly targeted Google Ad spend. We increased conversions by 473% and reduced the cost per lead by 91%.
The law firm effectively went from total digital obscurity to becoming the most visible law firm in Singapore [on Google], taking market share in core revenue areas such as Divorce and Probate. It remains a great example of how a company can transform its fortunes when they implement and invest in an effective digital marketing strategy.